Das Album des Jahres
Richard Thompson: "Hand Of Kindness" (Hannibal, Juni 1983)
Dies ist das erste Album nach der Trennung von seiner Frau Linda - ein WIRKLICH GROSSES ALBUM. Die Backingband stellen die gerade reformierten Fairport Convention (Simon Nicol, Dave Pegg und Dave Mattacks), erweitert um einen Akkordeonspieler und zwei Saxofonisten: Folkrock meets Cajun meets Glenn Miller.
weitere Highlights ...
Van Morrison: "Inarticulate Speech Of The Heart" (Vertigo, März 1983)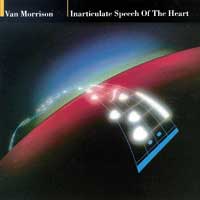 Kurz nach "Beautiful Vision" gibt's von Van The Man das nächste Album auf allerhöchstem Niveau: eine Spitzen-Band und Spitze-Songs!
The Go-Betweens: "Before Hollywood" (Rough Trade, März 1983)
Mit ihrem zweiten Album deuteten die Australier Robert Forster und Grant McLennan zusammen mit ihrer Schlagzeugerin Lindy Morrison bereits an, was spätestens beim übernächsten Album "Liberty Belle And The Black Diamond Express" völlig klar war: eine der besten Bands der 80er! Leider hat es nicht zum großen kommerziellen Durchbruch gereicht, oder besser gesagt: Gott sei dank hat es nicht gereicht, denn solche Schätze teilt man ungern mit jedermann auf der Strasse, sondern behandelt sie lieber als kleines Geheimnis.
David Lindley & El Rayo-X: "El Rayo Live" (Elektra/Asylum, März 1983)
Zwar nur ein sog. "Mini-Album" mit 6 Songs in knapp 30 Minuten - aber die haben es in sich! Live mitgeschnitten im Juni und Dezember 1982 in ein paar Clubs in Kalifornien mit solch illustren Namen wie "Hop Singh's", "The Golden Bear" und "Little Bavaria" - da wäre man gerne dabei gewesen!
Dabei waren jedenfalls neben dem Meister der exotischen Gitarren: Langzeitmitstreiter Jorge Calderon am Bass, Ex-King Crimson-Trommler Ian Wallace (very strange: Crimso goes Reggae!), Rhythmusgitarrist Bernie Larsen und der schräge Congamann Ras Baboo.
Aztec Camera: "High Land, Herd Rain" (Rough Trade, April 1983)
Ein gelungenes Debüt der jungen schottischen Band, die im wesentlichen aus dem Sänger/Gitarristen Roddy Frame bestand (spätere A.C.-Alben sind im Prinzip Roddy Frame-Soloalben). Die LP habe ich mir mal für 95 Pfennig aus der Grabbelkiste in einem großen Dinslakener HiFi- und Elektro-Discounter gezogen (das Glück ist mit den Tüchtigen).
Mehr ...
John Hiatt: "Riding With The King" (Geffen, April 1983)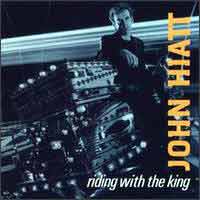 Eine von Hiatts zahlreichen guten, aber wenig erfolgreichen Alben in den 80ern - und das erste, das ich mir direkt bei der Neuerscheinung gekauft habe. Nach den drei zart-New-Wave-angehauchten Alben 1980-82, das letzte sogar von Tony Visconti (David Bowie) produziert, wurde der Sound jetzt wieder etwas bodenständiger: Hiatt versuchte auch nicht mehr wie Elvis Costello zu klingen. Stattdessen tat er sich auf der A-Seite der Platte mit dem Multiinstrumentalisten Scott Matthews aus San Francisco und für die B-Seite mit dem Briten Nick Lowe zusammen. Letzterer brachte auch seine Stammband mit (Martin Belmont an der Gitarre, Paul Carrack an den Keyboards und Bobby Irwin an den Trommeln).
Aus der Sicht von heute muss man sagen, dass die A-Seite schwach ist: es gibt keine Band, die organisch zusammenspielt, denn alles außer Gesang und Rhythmusgitarre stammt von Scott Matthews (Keyboards, Saxofon, Bass, Sologitarre, Schlagzeug). Auch hat das Schlagzeug einen schrecklichen 80er Sound. Die B-Seite mit der Nick-Lowe-Band besteht dagegen den Test der Zeit, könnte so auch schon in den 70ern oder erst heute aufgenommen worden sein. Sie hat auch die besseren Lieder, vor allem den Titelsong, der später von B.B. King und Eric Clapton gecovert wurde, aber auch "Love Like Blood" und "Book Lovers". Außerdem wurde hier wohl der Grundstein der erfolgreichen Zusammenarbeit von Hiatt und Lowe auf "Bring The Family" und - mit Abstrichen - beim Allstarprojekt Little Village (mit dabei noch Ry Cooder und Jim Keltner) gelegt.
Billy Bragg: "Life's A Riot With Spy Vs. Spy" (Chrysalis/Go! Discs, Mai 1983)
Das sah damals schon etwas ungewöhnlich aus: nur mit einer elektrischen(!) Gitarre bewaffnet trat Bragg auf, irgendwie eine Mischung aus Woody Guthrie und Johnny Rotton!
Mehr ...
Nick Lowe: "The Abnominal Showman" (WEA/F-Bea, Juni 1983)
Hässliches Cover, gute Band (Paul Carrack von Ace, Martin Belmont von Ducks Deluxe und Graham Parker an der Twäng-Gitarre, James Eller am Bass, weil Mr. Lowe sich mal als Gitarrist versuchte, Bobby Irwin am Schlagzeug), gute Song und guter Sound, mitten in den schrecklichen 80ern.
David Thomas & The Pedestrians: "Variations On A Theme" (Rough Trade/Sixth International, Juni 1983)
David Thomas ist der Sänger der Avantgard-Rocker Pere Ubu (obskur-kultig!). Zwischen den mehr oder weniger langen Auszeiten in seiner Stammband, teilweise auch parallel zu den Bandaktivitäten, findet er immer wieder Zeit für andere Projekte. Die Pedestrians waren ein echtes Allstar-Ensemble: Richard Thompson an der Gitarre, Anton Fier (Golden Palominos) am Schlagzeug und Paul Hamann am Bass. Chris Cutler (Schlagzeug) und Lindsay Cooper (Fagott) von Henry Cow (mega-obskur-kultig!) sind als Gäste dabei. Der Sound: Vielleicht Avantgard-Folkrock???
Mehr ...
The Waterboys (Island, Juli 1983)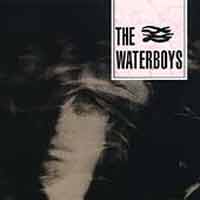 Die Waterboys sind das Vehikel des Sänger, Gitarristen und Songschreibers Mike Scott. Auf diesem Debüt wurde Scott von Anthony Thistlethwaite (Saxofon/Mandoline), Karl Wallinger (später mit World Party erfolgreich), diversen Schlagzeugern und Bassisten unterstützt. Mit dem grandiosen Song "A Girl Called Johnny".
Mehr ...
R.E.M.: "Murmur" (I.R.S., Aug. 1983)
Mehr ...
XTC: "Mummer" (Virgin, Aug. 1983)
Noch ein großartiges Album von Andy Partridge und Colin Moulding! Bekanntester Song : "Love On A Farmboy's Wages".
Violent Femmes (Slash, Sept. 1983)
Ein grandioses Debüt: nur mit einer Schrammelgitarre, einer akustischen Bassgitarre und einem halben Schlagzeug bewaffnet wurden die genialen Songs von Gorden Gano überzeugend präsentiert. Straßenmusik meets Punkrock.
Tom Waits: "Swordfishtrombones" (Island, Sep. 1983)
Waits Debüt auf Island war nach langen Jahren bei Elektra/Asylum ein musikalischer Quantensprung. Nicht dass er vorher nicht schon einer von den besseren Singer/Songwritern gewesen wäre - jetzt war er plötzlich in seinem neuen (Krach-) Sound sogar einzigartig.
The Rain Parade: "Emergency Third Rail Power Trip" (Enigma, Okt. 1983)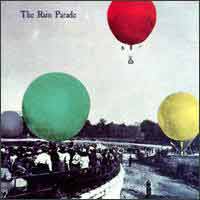 In den frühen 80ern klang die ganze Rockwelt nach üblen Billigkeyboards und synthetischen Schlagzeugen. Die ganze Rockwelt? Nein, ein kleine Szene, ausgerechnet in L.A. und S.F., genannt "Paisley Underground" leistete erbitterten Widerstand...
Nun ja - auch in den 80ern gab's viele gute Bands, die unbeirrt auf Gitarren setzten und die Byrds, Jefferson Airplane und ähnliche Bands als Vorbilder hatten. Dazu gehörten auch Rain Parade mit den Brüdern Steve Roback und David Roback und dem Gitarristen Matt Piucci. Piucci durfte später mal (1989) bei Crazy Horse den Ersatzmann für Poncho Sampedro geben, als jene sich mit ihrem Chef zeitweilig verkracht hatten. Dave Roback erlangte einen gewissen Kultstatus in seinen späteren Bands Opal ("Happy Nightmare Baby" mit Kendra Smith von Dream Syndicate!) und vor allem Mazzy Star (mit Hope Sandoval, dem Traum aller Männer!)
Mehr ...
Dream Syndicate: "The Days Of Wine And Roses" (Slash, Nov. 1983)
In etwa die gleiche Ecke wie Rain Parade gehörten Dream Syndicate, die Band um den Sänger/Gitarristen Steve Wynn. Auf diesem Debütalbum war sogar Kendra Smith am Bass dabei, die später mit David Roback bei Opal zusammenkam. Scheinbar eine große Familie.
Mehr ...
Bob Dylan: "Infidels" (Columbia, Nov. 1983)
Nach den eher schwachen Alben "Sow Train Coming" (1979) und vor allem "Shot Of Love" (1981) endlich mal wieder ein überzeugendes Dylanalbum. Bemerkenswert die Begleitband: an den Gitarren Mark Knopfler und Mick Taylor, als Rhythmusgruppe Sly & Robbie aus Jamaika.
Johnny Thunders: "Hurt Me" (New Rose, Nov. 1983)
Johnny Thunders war eine der tragischen Figuren der Rock'n'Roll. Als Gründungsmitglied der "New York Dolls" eine kleine Legende, brachte er 1977/78 mit den Heartbreakers (aus New York, nicht die von TomPetty!) Bluesrock, der unter Punkrock lief, leider ohne großen Erfolg. Bei dem französischen New Rose-Label fand er eine neue musikalische Heimat und nahm dort z.B. diese Folkplatte auf.
Cyndi Lauper: "She's So Unusual" (Epic, Dez. 1983)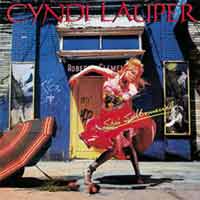 Ausnahmeweise findet sich hier eine "Hitplatte" in meiner Liste. Mit "Time After Time", "Girls Just Wanna Have Fun" und anderen Songperlen hat sich Miss Lauper unsterblich gemacht, konnte aber leider danach nie mehr an diesen Erfolg anknüpfen. Nicht zu unterschätzende Beteiligte an der Platte waren als Musiker und Songschreiber übrigens die beiden Hooters Eric Bazillian und Rob Hyman, zusammen mit ihrem Stammproduzenten Rick Chertoff.
Man: "Friday 13th" (Line, Dez. 1983)
Nach sieben Jahren Pause ein Lebenszeichen von einer meiner Lieblingsbands - zwar nur ein Livealbum, aber immerhin aus dem Marquee-Club in London und neben den beiden Gitarristen Mickey Jones (einziges Urmitglied) und Deke Leonard (bis auf eine solistische Auszeit 1972-73 immer dabei) endlich wieder mit dem besten Man-Bassisten Martin Ace (von 1969-72 und 1975 schon mal dabei). Mit John Weathers (Ex-Gentle Giant) gab's zumindest einen neuen Mann hinterm Schlagzeug, weil Terry Williams ja inzwischen als Dire Straits-rommler das grosse Los gezogen hatte.
Mehr ...
Peter Blegvad: "The Naked Shakespeare" (Virgin, 1983)
Peter Blegvad ist Amerikaner, lebt aber schon lange in England. Er war zuvor bei der Avantgarde-Band Henry Cow und hat sich hier von Andy Partridge (XTC) begleiten und produzieren lassen. Das Ergebnis könnte man irgendwo zwischen Singer/Songwriter-Musik, (Punk-)Rock (á la XTC) und Avantgarde (á la Henry Cow) einordnen. Gute Platte.
T-Bone Burnett: "Proof Through The Night" (Warner, 1983)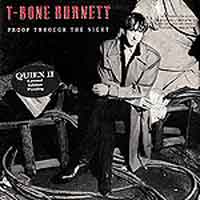 Sänger/Gitarrist Burnett war mal vor einigen Jahren bei der kommerziell erfolglosen, in Kollegenkreisen aber hochgeachteten Alpha Band. So begleitete er z.B. mit seinen alten Bandmates David Mansfield und Steven Soles Bob Dylan auf der "Hard Rain"-Tour. Später machte er sich vor allem einen Namen als Produzent. Zu seinen Kunden gehörten u.a. Los Lobos ("How Will The Wolf Survive" 1984 und "By The Light Of The Moon" 1987), Elvis Costello ("King Of America" 1986, "Spike" 1989 und "Mighty Like A Rose" 1991), Bruce Cockburn ("Nothing But A Burning Light" 1991 und "Dart To The Heart" 1993), die Counting Crows mit ihrem erfolgreichen Debüt "August And Everything After" von 1993, sowie Gillian Welch mit ihren ersten beiden Alben ("Revival" 1996 und "Hell Amongst Yearlings" 1998) . Grosse Aufmerksamkeit erlangte er dann für seine musikalische Oberaufsicht für die Filmsoundtracks zu "The Horsewhisperer" und ganz besonders natürlich "O Brother, Where Art Thou".
Auf seinem Solodebüt wird er neben seinen alten Kollegen Soles und Mansfield von einer ganzen Riege bekannter Gitarristen unterstützt, die sich aber alle in den Gesamtsound gut einfügen und die Platte so auch ein bischen "adeln": Pete Townsend, Richard Thompson, Mick Ronson und Ry Cooder.
Green On Red: "Gravity Talks" (Slash, 1983)
Nach der fantastischen EP vom letzten Jahr endlich das erste komplette Album ein richtig guten Band, der leider der grosse Durchbruch versagt blieb. Besser produziert als der Vorgänger,vor allem auch feiner instrumentiert: die Gitarrenparts werden jetzt von Sänger Dan Stuart und Keyboarder Chris Cacavas gespielt, dessen Beitrag insgesamt grösser ausfällt. Beim nächsten Album "Gas, Food, Lodging" wird dann aber der schon der Klassegitarrist Chuck Prophet dabei sein, sodass Cacavas wieder in's dritte Glied (hinter die Orgel) zurücktritt und Ende der 80er die Band dann ganz verlässt. Im Prinzip zwar schade, aber vielleicht hätte es ansonsten seine zwar kommerziell wenig erfolgreiche, aber an künstlerischen Höhepunkten reiche Solokarriere nicht gegeben und wir ihn nicht als Sänger und Songschreiber erlebt!
"... bis heute neben der Down There EP mein GOR Lieblingswerk, da ich diese verspielt-drogigen Songs mit Chris Cacavas an der Orgel dem American-Rock mit Gitarrist Chuck Prophet vorziehe. Prophet war hier noch nicht zu hören, so lag die Hauptlast auf Cacavas Keyboards. Man entfernte sich aber langsam vom Paisley Underground in Richtung Prairie."(Glitterhouse)
The Jazz Butcher: "In Bath Of Bacon" (Glass, 1983)
Das eher unbekannte Debütalbum von Pat Fish, A.K.A. The Jazz Butcher, der hier noch die meisten Instrumente selber spielt, was wohl hauptsächlich finanzielle Gründe hatte, bei einem Etat von 300 Britischen Pfund! Zwischen all dem Müll aus England in diesem Tagen eine angenehme Platte, obwohl es manchmal zu sehr nach Homerecording klingt. Richtig gut wird der Mann dann wenig später mit einer richtig guten Band, nachzuhören unter anderem auf dem tollen Livealbum Hamburg von 1985.
Peter Rowan: "The Walls Of Time" (Sugar Hill, 1983)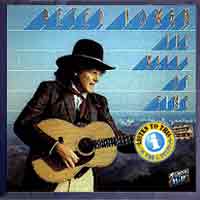 Rowan hat einen sehr umfangreichen Musikerstammbaum: Begonnen hat er in ganz jungen Jahren mit Bluegrass bei Bill Monroe. Ende der 60er gründete er mit David Grisman die kaum bekannte Rockband Earth Opera, um anschliessend als Sänger/Gitarrist bei Seatrain einzusteigen. Es gab zusammen mit Jerry Garcia und Grisman zwar 1973 ein kleines Bluegrass-Intermezzo (Old And In The Way), danach spielte er mit seinen Brüdern unter dem Etikett "The Rowan" angenehmen Westcoast-Country-Poprock. Von 1982 kenne ich dann noch eine grausame Rockabilly-Platte von "Peter Rowan & The White Stallions" - mit "Walls Of Time" war er aber (endlich) zum Bluegrass zurückgekehrt. Der Titelsong, ein Text von Rowan zu einer Instrumentalnummer von Bill Monroe, stammt noch aus seiner Frühphase und wird hier mit Unterstützung der richtigen "New Grass"-Cracks (Sam Bush, Jerry Douglas, Ricky Skaggs, etc.) und unter der Regie von Jim Rooney neu interpretiert. Emmylou Harris hat den Songs dann nochmal mit Sam Bush "Live At The Ryman" (1991) gebracht, ebenso wie Skaggs mit seiner Truppe "Kentucky Thunder". Auch von Waiting For Louise gibt es eine Version!